Playing (a game) is the voluntary attempt to overcome unnecessary obstacles.

Bernard Suits.
We all play and do so all our lives regardless of age or gender.
So why do we hear that phrase rumbling around in our brains "Playing is for children"?
Easy!
After a certain age, play takes on a different form and is no longer as striking as it was when you were a child, but if you think about it, many of the things we do on a daily basis, at the weekend with family or friends are considered play. So, since it is such an ingrained concept in us, why not use it to our advantage? Why not harness its power?
The power of play
Play is a powerful tool that allows those who use it to immerse themselves in a status known as FLOW.
But what is flow?
Flow is a state of consciousness in which a person is completely immersed in an activity.
This immersion is characterized by:
Total involvement
Loss of sense of time
High concentration
Intrinsic motivation
Focus on the goal
Satisfaction in performing an activity
Since gaming is pure fun, why not apply some of its logic in environments that lack it?
This is where the concept of GAMIFICATION comes in.
Gamification is the use of game design elements in non-gaming contexts.
That is, applying game concepts in environments such as:
Work
Learning
Marketing
Tourism
Let's take the world of work as an example, a world we are all familiar with.
A striking example is the use of gamification in the management of design and organization flows. We are all accustomed to using a variety of technologies to manage customers, orders, tasks and support, but many workers may feel that performing these daily tasks is just an unexciting and repetitive nuisance.
So is it possible, through the logic of gaming, to make this sector appealing?
Absolutely!
The most interesting example is the Habitica service.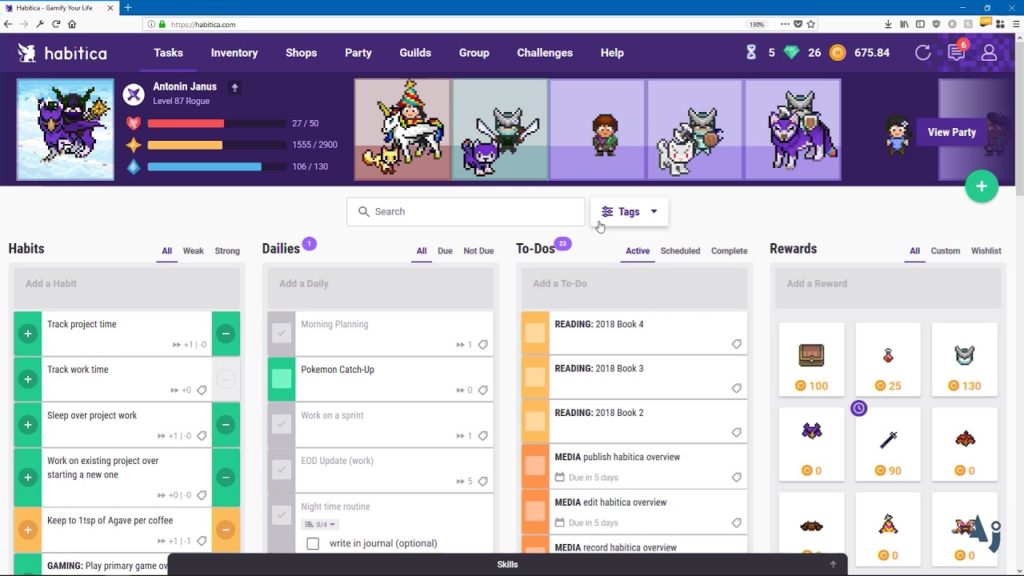 This tool makes it possible to use the concept of a virtual avatar in which each operation carried out generates points, experience and coins that can even be spent in a company digital store.
This is a store where, depending on your performance at work, you can customise your avatar.
We've all played or heard of FarmVille, because we always remember to harvest and plant our vegetables, but we never remember to mark the completion of a task on a CRM or any other project management software?
Well there can be several reasons for this, including
Low personal satisfaction
A boring and unexciting interface
No sense of challenge
That's why systems like Habitica exponentially increase the constant use of the system, increasing work performance.
So maybe we won't hear phrases like "Oof, it's Monday" in the office anymore.
The case Study of METHANE Project
We currently use gamification as a facilitator to achieve certain goals.
One case study, which we have realized, that we want to bring into this article is the METHANE.
The METHANE project is a virtual reality software for learning a procedure applied in maxi emergencies. Some use cases are:
Train derailment
Traffic Accident
Aircraft accident on the runway
An important objective for this project was to make the system stimulating, in order to encourage the re-use of the software constantly over time. over time. To achieve this goal, we applied a concept that is very common in the gaming world: the LEADBOARD.
The Leadboard is nothing more than a board showing the users who have achieved the best score in the ranking. This concept can be compared to the podium in sports where there is a 1st place, 2nd place and so on. In the competitive case, athletes train daily to improve and achieve the hard-earned gold, in our case the trainees keep up to date to climb the rankings and be the best of the bunch. This healthy sense of competition leads to a significant increase in the number of sessions per user and consequently better learning in METHANE.
How to apply gamification in your business?
Getting started is very simple: let's talk about it! We are here to listen to your story and your digital project. Together we can map out a plan to reach your goal, harnessing the power of Gamification. We will be ready to answer all your questions and tell you about our success stories.