Collaboration and open-mindedness. This is the secret ingredient. Let's face it, it is hard to find on the shelves and consequently missing from many productions.
But we, MACACO, have found it. Where? You might be wondering, not at Migros for sure, but in a rather unpredictable area, thanks to the collaboration of the FCTSA.
Together with the Federazione Cantonale Ticinese Servizi Ambulanze, MACACO had the opportunity to develop a Virtual Reality Training experience, tailored to their needs using HP technology.
A fantastic adventure started with them, made of recurring meetings, where both parties had the opportunity to learn something. From this couple cooking session came out a tasty Virtual Reality Training on M.E.T.H.A.N.E. (Maxi Emergency Management Algorithm).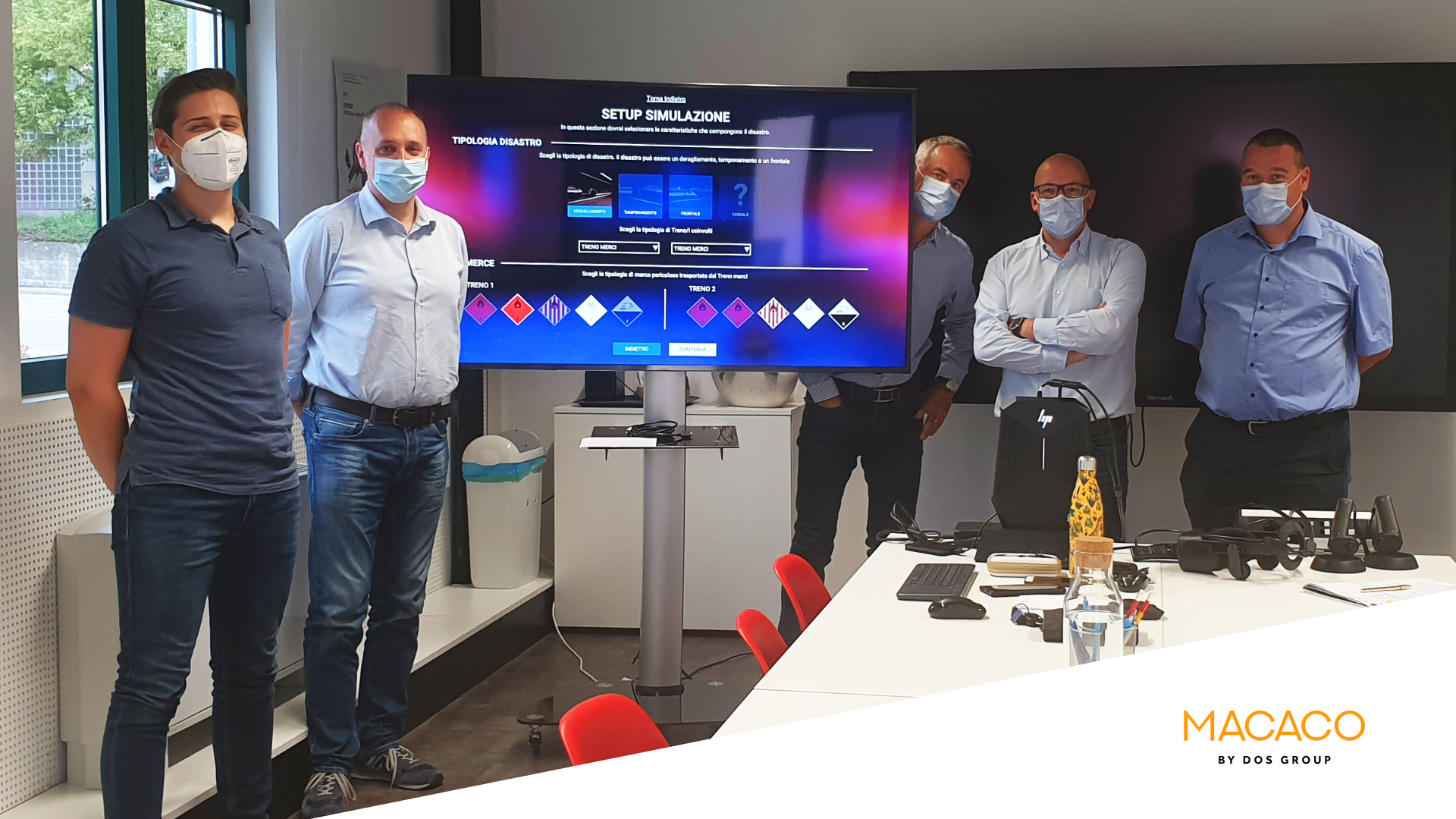 Why did FCTSA needed VR for training?
We must remember, before going into this experience, that Virtual Reality Training is a learning support. They do not want to and should not replace existing teaching systems.
"In general, in order to carry out M.E.T.H.A.N.E. training, we need a location, extras and a lot of imagination on the part of the rescuers. All of this requires four months of preparation, with a high risk of cancellation due to major causes".

Paolo Ziella – FCTSA
This is the issue that led FCTSA to consider using Virtual Reality.
FCTSA wanted to have the opportunity to educate its rescuers in this procedure more often, while waiting for the on-site training.
Besides, a vivid imagination isn't exactly innate in all of us.
How: The Gamification of a procedure
In M.E.T.H.A.N.E. the rescuer has to communicate continuously with the control centre in order to provide all the information about the incident that has occurred.
Verbal communication is a difficult concept to reproduce in Virtual Training, because voice recognition is not yet a perfect technology.
Gamification comes to our aid, i.e. the possibility of transforming certain procedures through the application of gaming logic.
In this way, learning becomes dynamic and consequently more effective.
The Gadgets, present within the experience, are a series of tools that allow the various METHANE phases to be carried out with extreme simplicity. For example:
For example:
The user needs to communicate what hazards are present.
The user in Virtual Reality selects the Gadget "Identify Hazards" and through a simple button selects the various hazards.
Once the identification is complete, he can proceed to communicate the information to the control centre.
It is not a "realistic" procedure, but the purpose of the training is to facilitate the memorization of a procedure.
Questa facilitazione è dovuta all'associazione di procedura-simbolo, oppure procedura-azione.
This facilitation is due to the association of procedure-symbol, or procedure-action. Association is a technique that your brain uses very often and is extremely effective in learning.
How: An always different training
The second request was to have training that was customizable and always different, in short, procedural.
What does procedural mean?
We can find out by analyzing the elements that generate a Maxi Emergency in a station.
Two passenger trains have various physical characteristics, such as speed and mass.
The two passenger trains, travelling at X speed and with X mass, collide, generating a disaster.
It sounds like a maths problem, but the characteristics "Passenger train", "Speed X" and "Mass X" are simply the rules which, when applied in the simulation, make it possible to generate an ever-changing but realistic disaster.
This is the meaning of procedural, which differs greatly from the term "Random" which is a series of randomly chosen values without any rules.
A Mercalli Scale was created using this system to calculate the extent of the disaster. After defining, by means of a grid, the areas most affected or least affected, the system generated the hazards, dead, injured and uninjured people.
In this way FCTSA could choose different parameters and train each rescuer with an ever-changing situation.
HABILIS Virtual Training Platform
The approach to data analysis is another important point. To keep track of all the data collected during the training sessions, such as scores, times and errors, all you need to do is access our HABILIS Platform. HABILIS Platform In the case of a traditional course, of course, everything is compiled on paper and the data is not aggregated, which means that you miss out on any problems that you might have with a reporting system.
Moreover, thanks to HABILIS, they can receive updates of the various experiences (in VR or not) without having to request a manual update.
The final result
We are extremely honoured to have accompanied FCTSA into the world of Virtual Reality and its great potential. This training makes it possible to train more people and to train independently much more often. And this makes the difference when it comes to saving lives.
In the video you can enjoy the Trailer of the fruit of the many meetings and the fantastic collaboration between MACACO and FCTSA.